Sonic Unleashed Trailers Taken Down
by Tristan Oliver
March 26, 2008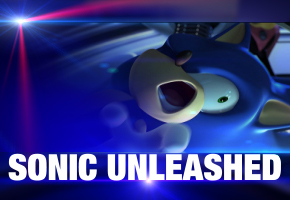 Sega of America claims copyright on YouTube
Spreading like wildfire on the Internet since its release last weekend, the purported in-game video of Sonic Unleashed has fallen victim to copyright claims.
It appears Sega of America is plucking the leaked video from YouTube.  Copies of the video have vanished based on a claim from SoA.  In addition, GameTrailers.com, who also published the video, has seen its copy also vanish, presumably on Sega's request.  Interesting enough, a copy of the video remains on GameVideos.com, and remains on the site's Hot List.
The footage in question featured Sonic gameplay switching between 2.5D and 3D through some very colorful environments, including a treetop forest, and a sand castle.
We're continuing to gather new information on Sonic Unleashed, and we will bring you as many details as we can when we get them.