First Official Sonic Unleashed Trailer
by Tristan Oliver
April 3, 2008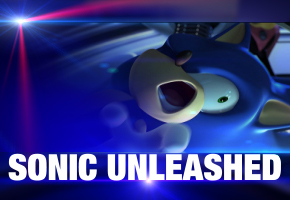 New Gameplay Footage; Areas in Release
Following up on our extensive coverage all day, we'd like to bring directly to you the trailer from Sonic Unleashed. You'll find it below in streaming Windows Media.
Comparing it to the original leaked trailer, there are some differences, as well as some new additions. Musically the composition has been rearranged, with some new melodies toward the middle and end. You'll also be able to see some gameplay action in new areas, as well as some additional beauty shots from the new Hedgehog Engine. The camera work is also much more polished.
Take a look below. We're constantly working to get new information and media on Sonic Unleashed, and we will bring you everything we know as soon as we learn it.