New Sonic Unleashed Details from ONM
by Andrew Paulson
April 9, 2008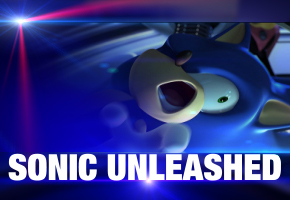 Lead Director says game will have more in common with the Sonic Adventure series…
We reported earlier today about new details and cover art from this Friday's Official Nintendo Magazine, well now even more details have been revealed regarding the highly anticipated Sonic Unleashed. Lead designer Yoshihisa Hashimoto from Sonic Team has reassured us that Sonic Unleashed "has no relation" with Sonic 06 (Xbox 360/PS3).
"As a development team, we originally started off this project planning to create Sonic Adventure 3", Hashimoto revealed to the magazine. "In our minds, this game will have more in common with the older Sonic Adventure series. It has no relation to Sonic the Hedgehog [on PS3/Xbox 360] or Sonic and the Secret Rings".
Sonic Unleashed, he went on, has been developed from scratch and "will purely be Sonic's new product. Of course, players will still be able to enjoy Sonic's symbolic actions such as Spin attack and Homing Attack".
At day, Sonic will retain his quick and agile speed, while at night he'll be "a slightly slower and yet more agile beast. Where Sonic dodges past obstacles, Were-Sonic manhandles them out of the way and can toss enemies around like nobody's business", Official Nintendo Magazine has said. Instead of running, Sonic will use his extremely long arms to swing accross the level like a ape.
The ONM also describes the Wii version of the game to having "Shiny next-gen visuals". So far Positive reactions to the gameplay and camera are coming from the 'hands-on' experience of the game. Supposedly the Nintendo Wii version of Sonic Unleashed will be the lead-platform version of the game. The PS2 port will be downgraded from the Wii version, while the Xbox 360/PS3 version's will be polished with extra gloss.
Yoshihisa Hashimoto also mentions that during gameplay, the Wii Remote will be used and "players will also be using the Nunchuck". The Nintendo Wii version will also more then likely not have a online mode, though we still cant say the same for the Xbox 360/PS3 version's of Sonic Unleashed.
Information from the interview with Yoshihisa Hashimoto reveal that the project started out as Sonic Adventure 3 and will have more in common with the Adventure series then past big budget Sonic titles. The game's adventure will be all around the world, featuring various new action systems and abilities.
Though details on the storyline have been slim, Sonic will be trapped by Dr. Eggman's evil plan and the power of the Chaos Emeralds (while Sonic is in Super form) will be misused and something changes in Sonic's body. This will likely make Sonic turn into the were-hog form during night-time levels. The were-wolf Sonic has been reported as not being evil, but instead being a hulk version of the hedgehog. So far both Tails and Amy have been confirmed to appear in the game, with Knuckles and Shadow likely to join in sometime in the story as well.
Sonic will also have three new moves during the game, including a Sonic Boost move (Collect rings to fill up the Ring Energy bar, which you can use to dash through the course at high speeds), Sonic Drift (Players will be able to take a short sharp turn at curves while running through the course), and a Quick Step move (While moving at high speeds towards a obstacle, players can move left or right rapidly to avoid it). Other actions will likely be revealed at a later date.
Official Nintendo Magazine issue #29 will feature a full interview with Yoshihisa Hashimoto, who will be the lead designer of Sonic Unleashed. Yoshihisa Hasimoto's former credits include Sonic Adventure 2 (Lead Chao Programmer), Sonic Adventure 2: Battle (Lead Chao Programmer), Sonic Advance (Programmer), Sonic Pinball Party (Programmer), and Sonic Adventure DX (A-Life System Director). Also being reported is that Sonic Team of Japan will indeed be developing this title exclusively, will not be spread-out between production teams like previous reports suggested.
kotaku also has a sample scan from the issue of ONM #29.
Check out Official Nintendo Magazine's 29th issue for the exclusive extensive preview of Sonic Unleashed this Friday (11th)! Also stick around TSSZ News's Sonic Scene for more information as we report it. Thanks to The Sonic Stadium's Forums and ComputerAndVideoGame's article for some of the details listed above.