Phantasy Star Portable Japanese Release Date Revealed
by Andrew Paulson
April 28, 2008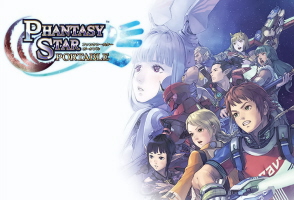 New information has been revealed on the upcoming PSP Phantasy Star Universe version…
A Japanese release date has finally been revealed for the upcoming Phantasy Star Portable, which will be released on July 31st, 2008. Phantasy Star Portable will be based on Phantasy Star Universe and its expansion, Ambition of the Illuminus. The game will be released on the Sony PSP handheld system and will include a all-new story mode with more missions added to the game as well as a multiplayer mode that supports cooperative play of up to four players (likely local multiplayer for now). The game will introduce two new additional characters, Vivienne, a cast that players can team up with during the story, and Helga Neumann, a villain responsible for terrorists attacks in the Gurhal System. Thanks to John Weeks for posting the release date and the new information below on the PSO-World.com Forums:
There are plans to possibly link PSP with the PC/PS2 version of AOTI's network mode which might allow you to transfer your online character data to the PSP version of the game. Note operative words: "possibly" and "might." (About as bad as a Kubara weapon, eh?)

A special mission for both the PC/PS2 version of AOTI and the PSP version of PSP will be released to commemorate the release of PSP.

The choices you make throughout PSP's story mode will reflect on the ending you receive. There will be multiple possible endings.

Over 1500 items will be present in PSP, including many from PSU and AOTI.

Item drop methods will be undergoing a change, but specifics have not been released.

Illustrated item and enemy reference sections will be included.

Your personal mission history (grades, clear times, etc. I'd imagine) will be recorded.

Specifics are unknown, but it's possible that a "title" system may be implemented.

Downloadable missions will be introduced with this game.
Click to Enlarge: