T2 Stock Up Higher than EA Offer
by Tristan Oliver
April 29, 2008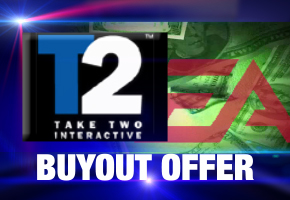 After Hours Price: $26.58
Officially, stock for Take-Two Interactive closed at 26.63, up marginally on the day.  However, earlier in the trading session, stocks reached $26.82 for a time–much higher than the $25.74 a share Electronic Arts is still offering to buy the company out.
The news comes on launch day for Grand Theft Auto IV and on a day that Electronic Arts reiterated that they are still "in the game," to speak, for the company.
EA reiterated that their offer is based on the long-term value of Take-Two and not what they perceive as a one-time spike that GTAIV is presumably offering.  Mariam Sughayer, a senior manager at Corporate Communications, a PR firm for EA, continues, ""In addition — we believe that TTWO's price prior to our offer already reflected that this would be a global blockbuster – the stock was trading at approximately $17."
Analysts predict a buyout could still happen, with EA's offer bumped up some.