Why does Jack Thompson Have GTAIV?
by Tristan Oliver
April 30, 2008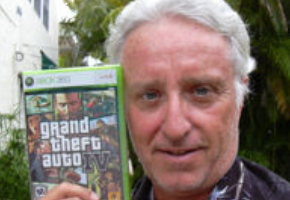 Conspiracy Theories Rampant About This Photo
On several of the major sites this evening, the photo above and to the left-ish creeped up. The anti-violent game activist and still licensed attorney Jack Thompson has a copy of Grand Theft Auto IV in his hands. Nobody really knows why.
However, GamePolitics knows Mr. Thompson forwarded the snap himself, claiming it to be "evidence." That's the only word he purportedly wrote in his forwarding. So what's this evidence of? Most signs right now point to some forthcoming announcement of how he found a minor able to purchase the game, but no one's sure yet. We'll keep track of where this mysterious road leads.