Skies of Arcadia Sequel A Reality?
by Andrew Paulson
May 7, 2008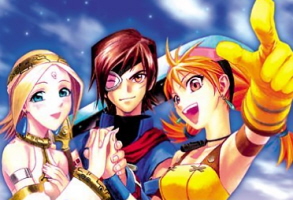 Rumored sequel could possibly be revealed as early as the Tokyo Game show.
We reported in March of the list of likely expected games at this years SEGA Gamer's Day 2008, which included Eternal Arcadia (Skies of Arcadia). The very popular Dreamcast RPG has been often rumored to get a possible sequel for awhile now, German website SEGA ON seems to think this is a reality. What they call very reliable Sega close sources, they mention that Sega will definitely present a Skies of Arcadia sequel sometime this year.
A exact date has not been given out yet, but they explain that the game will likely be confirmed at the earliest at the Tokyo Game show. They also mention that a Nintendo Wii version of the game is in the works and a possible PlayStation 3 version as well. This is all just speculation so far, so don't get too excited until we get some sort of confirmation from Sega themselves.