Concept art for new Kid Icarus game leaked?
by Ryan Bloom
May 8, 2008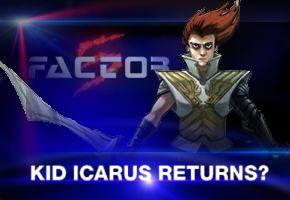 Images reportedly from a pitch made to Nintendo by Factor 5.
Today, gaming site Kombo has posted an article revealing what they claim are various concept art images for a darker, more mature re-imagining of long-dormant Nintendo franchise Kid Icarus. The images in question are reportedly from Factor 5, the company best known for their Star Wars: Rogue Squadron series of games on the Nintendo 64 and Gamecube, as well as the Playstation 3 game Lair. After Lair, Factor 5 expressed interest in making games for Nintendo's Wii platform, which, if Kombo is to be believed, is where Kid Icarus comes in:
The artwork we've published comes from a pitch document we got our hands on during the earlier part of 2008. Since then, sources tell us the game's art-direction has advanced considerably. Despite this artwork not being reflective of the game's current standing, we've decided to run it so fans can get a look at what Factor 5 has at least experimented with.
Despite only having one game in 1987 on the Nintendo Entertainment System, Kid Icarus has recently seen a resurgence in popularity with gaming websites like IGN hinting for years that a new game was in development. Even Nintendo seems to have taken notice, given Pit's appearance in Super Smash Brothers Brawl, released two months ago. Could these really be images from a new Kid Icarus game? Stay tuned to TSSZ News for further updates as they happen.