@Issue Poll: 61% Would Stand by EA
by Tristan Oliver
May 16, 2008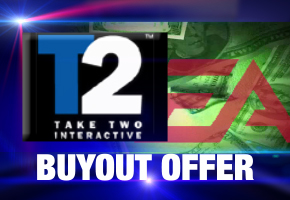 Most Not Phased by EA Hostile Takeover Attempts
The news in recent months about Electronic Arts potentially buying Take-Two Interactive may turn out to be a non-story.  Take-Two stock closed close to its 52 week high on Thursday and well above $27 a share, Electronic Arts was down more than 2 percent in Thursday's trading, and most of the buyout talk–aside from a billion dollar EA loan–has fallen silent since Grand Theft Auto IV became an even bigger blockbuster than expected.  To pardon Jerry Seinfeld, this really could be a show about nothing.
Our @Issue Poll seems to confirm this new suspicion.  It asked if you would boycott Electronic Arts and its products in the event of a Take-Two buyout.  We've had the poll up for over a month, and out of 76 votes, 61% wouldn't pass up EA offerings.  39% would.
We have a new poll available concerning Sonic Unleashed.  Be sure to vote, and we'll have results of that coming in a few weeks.