New Sonic Unleashed Details From GameSpot Interview
by Andrew Paulson
May 18, 2008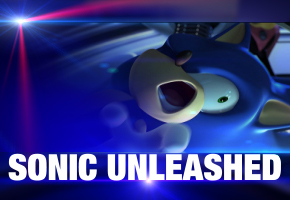 Nighttime gameplay to be revealed closer to E3, Chao Gardens a possibility…
GameSpot has recently interviewed Sega of America producer Patrick Rileyk about Sonic Unleashed, shedding a few more details on the game. Most Sonic fans are curious to get their first glimpse of the questioned nighttime gameplay featuring Were-Sonic, which Patrick Rileyk mentions will not be shown until closer to E3.
Patrick Rileyk explains more details on the seamless transition between 2.5D gameplay to 3D, which he then explains the different locations the levels will be based on. All levels in the game will be based on real-world locations, which the first daytime level has been confirmed to be based on Mykonos, Greece. The 4th level of the game will be based in Europe (though it hasn't been confirmed where), which will introduce players to Sonic's Quick Step and Sonic Drift moves.
More details on the Ring Energy Meter have also been revealed, getting more rings will fill up the meter. The faster Sonic gets the rings, the more ring energy he'll receive. Ring Energy is then used to engage the Sonic Boost move, which will send Sonic on a turbo boost of speed. Patrick Rileyk mentions that this sense of speed will give a out of control sense of feeling, up to 300 miles per a hour at least. Let us hope this will not be the same "out of control" feeling we received when playing Sonic the Hedgehog 06's speed stages.
He goes on to answer a question about Sonic's friends, who'll be appearing in the story, 95% of the time Sonic will take center stage during gameplay. We can only wonder who you'll take control of the other 5% of the time, Were-Sonic perhaps?
Chao Gardens are still a possibility, as Patrick says that they will be talked about at a later date. The game will feature upgrades, similar to those obtained in the Sonic Adventure series. Experience points will be awarded during gameplay, which Sonic can use to gain new upgrades and powers.
Sonic Unleashed will be unleashed around holiday, 2008. Check out the full interview over at GameSpot and stick around TSSZ News's Sonic Scene for more upcoming details on the game.
Comparisons between Sonic Unleashed's Mykonos, Greece and the real version: