Archie Comics Sonic X #33 First Look
by Andrew Paulson
May 21, 2008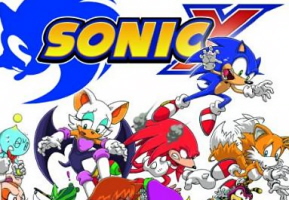 Archie takes a look at June's Sonic X comic, including scans and a preview…
Archie Comics has released their first look at Sonic X Issue #33, including scans shown below and a preview of the upcoming June issue.
SONIC X #33
"Meteor Madness": For once, the heroes of Knothill Village have a chance to relax and enjoy a nice quiet picnic together… yeah, right! Things go from picnic to panic when Chuck spots a meteor hurtling toward earth – and it has an Chaos Emerald embedded inside! Now the heroes must travel to the South Pole and keep Eggman from getting his hands on it. To make things more interesting, they decide make it a competition and split up into teams. Before they're through, readers will witness more action, romance, and inter-squad squabbling to rival a certain fantastic foursome!
SCRIPT: Joe Edkin. ART: David Hutchison and Terry Austin. Asteroid-blastin'
cover by Pat "Spaz" Spaziante!
Shipping Date: May 21st, 2008
On Sale at Comic Specialty Shops: May 28th, 2008
On Sale on Newsstands: June 10th, 2008
32-page, full color comic
$2.25 US.