Archie Comics Sonic Archives #9 Preview
by Andrew Paulson
June 17, 2008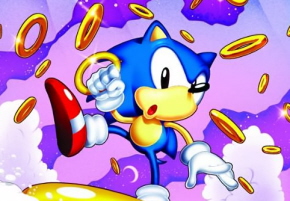 Archie Comics preview to the latest compilation book…
Archie Comics has released their preview of  Sonic The Hedgehog Archives #9, which they also revealed the cover art to the issue as well. The compilation book will feature issues #33 through #36 and will be released near the beginning of October.

SONIC THE HEDGEHOG ARCHIVES #9
The thrilling new series that lets fans relive classic Sonic stories continues!
Volume 9 presents issues #33 through #36 of Sonic's ongoing comic book series in a special 5 x 7 & ½ inch edition. These stories continue the artistic change to a more
"dramatic" tone, better aligning the series to the hit Saturday morning animated series then on the air. The emphasis is on the royal politics of the kingdom, with power plays, self-sacrifice and betrayals galore. Each story is meticulously restored and printed on high-grade paper-so you can feel like you're zipping right alongside the cobalt champion as he saves Knothole Village! This action-packed edition features events like the mystery of the Chaos Emeralds and the return of King Acorn (sort of)!
Stories include:
"Let's Get Small" (issue #33),
"The Big Picture" (issue #33),
"Sonic Shot" (issue #33),
"To Bot or Not to Bot" (issue #34),
"A Sense of History – Part One" (issue #34),
"Ring of Truth" (issue #35),
"A Sense of History – Part Two" (issue #35),
"Heart of Darkness" (issue #36), and
"A Sense of History Party Three" (issue #36).
SCRIPTS: Mike Gallagher, Ken Penders & Mike Kanterovich.
ART: Art Mawhinney, Dave Manak, & Ken Penders.
Colossal cover by Pat
"Spaz" Spazinate!
Shipping Date: September 24th, 2008
On Sale at Comic Specialty Shops: October 1st, 2008
On Sale on Newsstands: October 14th, 2008
112-page, full color graphic novel
$2.25 US.