T2 Stock Closes Dangerously Close to EA Offer
by Tristan Oliver
June 24, 2008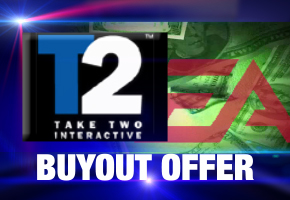 Rebounds Slightly in After Hours Trading
Suddenly, that buyout offer Electronic Arts offered to Take Two Interactive may be the rosier option if you're a T2 investor.
Today T2 stock closed officially at $25.79 a share–a two and a half percent drop and just five cents a share above Electronic Arts's current offer to the company.  You may remember EA's initial offer was $26 a share.  The stock closed under that mark.
T2 stock managed to rebound slightly in after hours trading, to $25.90.  That's still below EA's original offer, however.
There's no real clear reason for such a decline.  In contrast, Electronic Arts stock closed up slightly on the day.  This could get interesting.