Archie Comics Sonic #190 First Look
by Andrew Paulson
July 6, 2008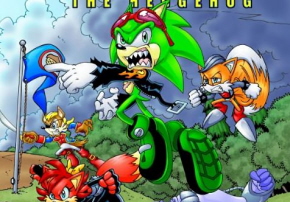 Archie takes a look at July's Sonic comic, including scans and a preview…
Archie Comics has released their first look at Sonic The Hedgehog #190, including scans shown below and a preview of the upcoming July issue.
SONIC THE HEDGEHOG #190
"A Bold New Mobeus Part 2: Duality": Worlds collide as Sonic and the heroic Freedom Fighters throw-down with the evil Scourge and the villainous Suppression Squad! Tensions run high as personal grudges come to light, and the fate of Freedom HQ hangs in the balance! Who will win this epic struggle? The answer may surprise you!
SCRIPT: Ian Flynn.
ART: Tracy Yardley (pencils) and Jim Amash (inks).
Dimension-crossing cover by Tracy Yardley! & Josh Ray!
Shipping Date: July 2nd, 2008
On Sale at Comic Specialty Shops: July 9th, 2008
On Sale on Newsstands: July 22nd, 2008
32-page, full color comic
$2.25 US.