First @ TSSZ: Even More Sonic Chronicles Screens, Info
by Tristan Oliver
July 15, 2008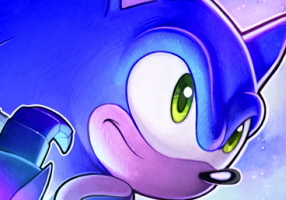 UPDATE: The Link, and what the Screens Show

We first brought you the link to the new Sonic Chronicles screen grabs.  Again, here's the link:
ftp://segapr.segaamerica.com/SEGA_EVENTS/E3%202008/Sonic_Chronicles_DB/Screens/
We'll offload them to herelater this evening.  Andrew Paulson and the team will be hard at work so you don't have to jam into Sega's server.
In the interim, here is what those screens include:
The Green Hill Zone is back and it joins four other now confirmed zones: Mystic Ruins, Blue Ridge, Central City, and Kron.
We see that Tails, Amy, and Rouge will be among potential party members, along with Big the Cat, Shadow, and Knuckles
There appears to be some elements of the old Chaos bosses making their mark in the game, as well as something named Kron.  We thought that was the level–it looks instead to be a boss of some kind.  We're not sure.  But we do know from one of the shots that Kron Warrior has 410 HP to lose.
Combo moves are available.  One shot shows Sonic and Shadow double-teaming an enemy.
Again, look for screenies on our server later this evening.