Megadrive Handheld Available Now
by Paul Street
July 18, 2008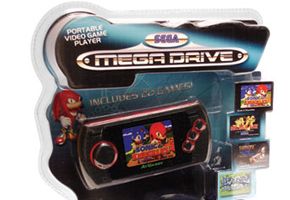 20 Games on one device for £29.99 ($59.25) , It's the Deal of the Summer
I never saw this coming but that doesn't make it any less awesome. Doncaster (UK) based company Blaze have created a handheld Megadrive which comes with 20 classic games built in for your playing pleasure. It even plugs into your TV apparently. Sporting a classic Megadrive D-Pad and A,B,C button layout it's hard for a long time Sega fan such as myself not to fall in love with this thing, even if claims by Blaze that this is the first handheld Megadrive are completely unfounded. Anyone remember the Sega Nomad?
The full list of games included on the device is as follows:
Sonic & Knuckles
Shinobi
Alex Kidd (and the enchanted castle)
Alien Storm
Altered Beast
Arrow Flash
Columns III
Crack Down
Decap Attack
Dr.Robotnik
E Swat
Ecco
Ecco Jr
Flicky
Gain Ground
Golden Axe
Jewel Master
Kidd Chameleon
Sonic Spinball
Shadow Dancer
You can buy it from http://www.segaretro.net/ for the price of £29.99 or $59.25 for our American friends. You guys will just have to put up with it being called Megadrive instead of Genesis.