Sonic + Black Knight: Full NP Story Scan
by Tristan Oliver
July 24, 2008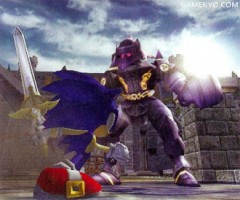 New Images of Medieval Environments, Katano, Kishimoto Interview
It's been talked about now for almost a week–the Nintendo Power cover story of the now confirmed Sonic and the Black Knight.
Pieces of information have come along in small trinkets ever since late Saturday, but today, TSSZ News has obtained the full story–complete with some new screenshots, and some chatter between NP and new director Tetsu Katano and lead designer Morio Kishimoto.  So, no wonder the game is so vastly different from what we're used to out of Sonic–the direction is fresh.
Have a look at the scans below.  We were first to confirm the existence of Sonic and the Black Knight, and we will be the first to bring you any new information on the title as it develops.  The game is on track for a Spring 2009 release exclusively for Nintendo Wii.