ProSonic, 3D Sonics Among Confirmed SAGE Games
by Tristan Oliver
August 5, 2008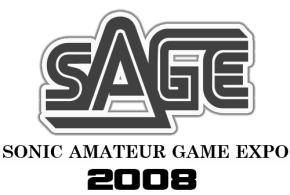 New Information on More Fan Games Showing Up

As SAGE is now a week and a half away, we are getting our first glimpse of what will be shown at the event–and it might be the most exciting lineup of anything Sonic, fan game or official, in some time.
We already knew the critically acclaimed Sonic Nexus and Sonic Time Twisted will be at the event with new playable demos.  Blue Frenzy's Sonic Frenzy Adventure and Metarus's Sonic: T. Race will also be there.
The biggest new news of the expo may be the release of ProSonic, Damian Grove's new Sonic game development toolkit.  The official SAGE release says of it:
Prepare for the release of the ultimate Sonic game development kit that uses reverse engineering to represent the original games to the letter…
There are also several more games being featured, some of these confirmed already, a few not:
Chao Killer Productions – Emerald Ties: Crossing Fates: Emerald Ties has always been known for its blazing fast speed and attention to detail.  This amazing game is making a much anticipated return with much more content than before!

Streak Thunderstorm – Mecha Madness: From the mind of Streak Thunderstorm comes the most original Sonic experience ever.  Complete with a combat system, elemental shields, deep gameplay, and revolutionary effects, as well as lush artwork and production, Mecha Madness is going to be one of the must play games of SAGE 2008.

Nitemare – Super Mario Kingdoms: A surprise title from Sonic XG creator Nitemare goes as a testament that SAGE is not just about Sonic fan games.

Kyran – DLPHA-RC4: A role-playing game set in the Sonic the Hedgehog TV universe that shows a completely different style of gameplay for the Sonic formula.  In development since 2005, this is going to be the first time this epic is going to be playable!

Deltaspeed – Sonic: Point of Action: Blender game engine has opened new opportunities for easy 3D game development.  Shown as a teaser video last year, Sonic: Point of Action will be playable for the first time this SAGE!
Point of Action won't be the only 3D SFG coming to SAGE.  Sonic Bastardized also appears on the confirmed roster as a 3D playable title.  Other games coming include already confirmed The White Box and Super Mario Roots.
We are your site for SAGE.  Stay with TSSZ News as our team will give you the most complete coverage anywhere of the event before, during, and after the expo.