SAGE '08: Extended Preview Video
by Ryan Bloom
August 8, 2008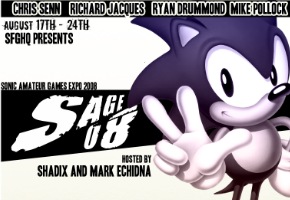 Catch a glimpse of what games will be on the show floor, featuring new, exclusive footage of select titles!
With almost one week to go before the start of the Sonic Amateur Games Expo 2008, Slingerland has created a 3 minute promo for the event, intended to show during the Summer of Sonic event. The video features an exclusive-first look sneak peek at Sonic Nexus' new engine and animated intro, plus new footage of Emerald Ties: Crossing Fates, Sonic: Time Twisted, and more!
(Click here to watch this video in High Quality)
Stay tuned to TSSZ for all the latest developments at SAGE '08.