@Issue Poll: 47% Unphased Over Black Knight
by Tristan Oliver
August 14, 2008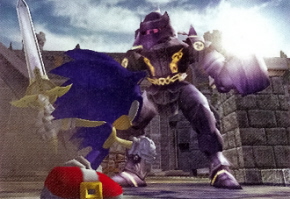 500+ Votes Show Cautious Optimism
When the first rumors of Sonic and the Black Knight hit the Internet (and later confirmed First @ TSSZ), the shock to many in the community was severe and prompted rage not seen in some time.
Now that we've seen the details and the scans of what's to come, our @Issue poll suggests fans have mellowed out some.
When asked if Sega has shot itself in the foot with news of the game, 514 people responded–our highest vote total to date.  Of those votes, 47% said No–quite a surprise to us.  Only 27% said Yes, it would be a problem, and 26% said Maybe.  Even combining the Yes and Maybe votes, it's still quite a split.
We have a new poll available.  We invite you to vote.