SAGE '08: Final Demo of Emerald Ties: Crossing Fates Available
by Tristan Oliver
August 17, 2008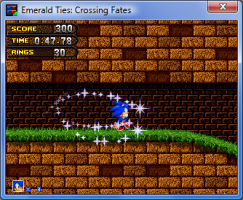 Could a Full Release be Far Behind?
In development since 2005, Chao Killer Team's Emerald Ties: Crossing Fates sees its final demo released at this year's SAGE, and it's easily expo-goers' choice of game right now.
The title, with its colorful original graphics and physics engine, the team is working on a 360-degree movement engine, as well as the inclusion of some classic 2D Sonic power-ups, parallax scrolling, and Super Sonic will be seen in the final product.
Most of the above is demonstrated in the demo, which is available at their SAGE booth.  We have a short screenshot gallery below, and Emerald Ties: Crossing Fates reviewed shortly.