SAGE '08: Everlasting Song
by Tristan Oliver
August 20, 2008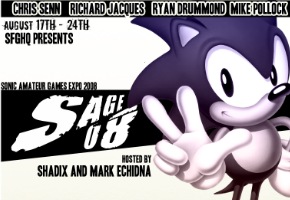 The Best Game at SAGE may not be a Sonic game
There's been nearly critical acclaim all around going to one particular title at SAGE…and it's not a Sonic fan game.
Instead, Everlasting Song by Blue Frenzy, an action game described in the vein of Metroid or Castlevania, is getting a lot of attention.  It's no wonder either–the Multimedia Fusion 2 developed title is in its first beta release and is already boasting a ton of features:
2D classic gameplay

Extra missions and quest available in the inn. NOT AVAILABLE ON THIS DEMO.

5 different elements with a total of 15 different spells.

32 different weapons, from simple daggers, swords and axes, to magic weapons with different effects.

16 different armours.

10 different shoes.

32 different rings.

a 10×10 map split in 9 zones

9 dungeons plus 5 optional secret dungeons

100+ enemies to be found.

3 Different potions.

Wisely chosen soundtrack.

Secret objects dropped by enemies under special conditions.

Challenging. This is not an easy game.
This first demo contains one dungeon and one field area.  If you're stuck, there's a suite of tutorials available, and there's a walkthrough you can read right on Blue Frenzy's SAGE booth.  The buzz right now is that this, along with Nothing, may be ones to watch potentially transcend into professional, original works.