SAGE '08 In Depth: Drossin Interview a Dud?
by Tristan Oliver
August 25, 2008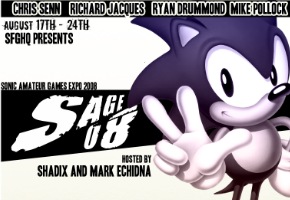 Fans Criticize Softball Questions to Composer
One of the big surprises at SAGE was a chat with the composer for various Sonic tunes in the 1990s, Howard Drossin.  Most notable for his involvement in Sonic 3 and Knuckles, Drossin came to the SAGE chat at midnight Friday night, with a eager crowd of fans ready to pick his brain.
The general sentiment, however, was that many of the questions asked never got to the core of what Sonic research aficionados were hoping for.
There was mention of Michael Jackson's potential involvement in Sonic 3 but some fans criticized the two questions the topic got.  The proclaimed "King of Pop" has long been rumored to have been uncredited in the game, and is believed to have contributed a significant portion of the soundtrack from tunes such as Stranger in Moscow and Jam.
"Originally he was involved but in the end he ended up with NO involvement," Drossin told those in the chat.  "I know that SEGA wanted to distance themselves from him after the sex scandal. If MJ's tracks influenced some of the music it is a coincidence as far as I know."
Also noteworthy to Sonic fans is news from the interview that Drossin composed music for Sonic 3 and Knuckles that didn't make the cut for the final product.
"A lot of my music never made it into the game," Drossin told chat-goers.  He said he was willing to find that music, but it could be a long wait for Sonic researchers.
"This could be a while," Drossin said.  "I didn't ever think anyone would be interested and am not quite sure where it is anymore."
The issue of unused music got more interesting when Chris Senn, who chatted earlier in the week, popped in to chat.  When the question of an rumored soundtrack to Sonic X-Treme came up, Senn, who was involved in early development of X-Treme, Senn jumped in.
"All I did was a bunch of conceptual music… quick little pieces… none of them finished," Senn said.  "Howard's the one who did actual finished pieces (a couple, I think, right Howard?)"
"Yes, I did. have it somewhere… I actually may know where that is," Drossin replied.  It's now possible that material, along with Drossin's original Sonic 3 and Knuckles MIDI compositions will be turned over to Senn for posting.
Mr. Drossin also dropped a hint that he may be working on another Sonic game in the future and that he never named his tracks for Sonic 3–SEGA did.  From there, questions ranged to his past non-Sonic works to his current projects–Splatterhouse and Namco's Afro Samurai, if you were interested.
But from there, other topics pointed to Drossin's career pre and post-Sega, the liveliness of the remix community, to how life was working inside the house that Sonic built.  There was, evidently, a lot of fluff and deterioration, and that had some fans desperate for information upset.
On the Sonic Retro forums, a tremendous push is now underway to find Drossin again and conduct a second, more rigorous interview.  Initial reaction was stinging of disappointment and scorn.  Forumer Shade wrote of the interview:
Way to completely (expletive) fail it, guys! Big thanks to the guys who organized and hosted this spectacular example of typical sonic scene exposition.

Not only did we not get any useful info (save the little tidbit where there were uncredited music artists on Sonic 3 *DING DING DING*), but you lot completely gave Drossin a bad impression of the scene; a worse one than he probably already has. If Chris Senn hadn't arrived and alleviated that pit of akwardness Howard had been forced into, I shudder to think how things would have proceeded.
Another forumer, Sik, has been in talks with Chris Senn about a follow-up:
For those that want to make a new interview to fix up all this mess: I've been discussing with Senn to see if he could contact Drossin for a new interview. With all the new rules we said: collecting questions and filter out the best ones beforehand as well as there being only a single interviewer. But I'm not doing anything at all until I get confirmation – it'll be best first to give him a break, even if just a short one =P
All indications point to Sonic Retro administrator Tweaker as possibly conducting a Q&A via E-Mail.  Should it happen, we'll bring you any new information that surfaces from it.