Archie Comics Sonic Select Book 2 Preview
by Andrew Paulson
August 26, 2008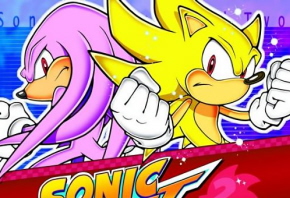 Archie Comics releases their preview of the upcoming Sonic Super Specials compilation book, cover artwork inside…
Archie Comics has recently released their preview of the upcoming Sonic Select Book 2, which will feature stories from the Super Sonic Specials issues. The comics that will be presented in this compilation will be "Knuckles' Chaotix", "Super Sonic vs. Hyper Knuckles", "Mecha Madness", and "Sonic Live!" and it will go on sale in November for a retail price of $11.95. Check below for the preview and excellent cover art:
SONIC SELECT VOLUME #2
THE NEW SERIES OF SONIC COLLECTIONS FEATURING CLASSIC TALES FROM SONIC SUPER SPECIALS CONTINUES!
Following in the smashing success of the Sonic Archives series, Archie continues the proud tradition of reprints with Sonic Select! These fully restored and re-mastered 6×9 inch graphic novels feature the best stories taken from the original Sonic Super Specials! Volume 2 presents stories from such classic specials as "Knuckles' Chaotix", "Super Sonic vs. Hyper Knuckles", "Mecha Madness", and "Sonic Live!" Now these hard-to-find stories are conveniently collected in this handsome volume, allowing fans from today and yesterday to add to their stash of Sonic comics, or start a whole new collection! Join the fun and become a part of Archie-Sonic history!
SCRIPTS: Mike Gallagher, Ken Penders, Kent Taylor and Mike Kanterovich.
ART: Art Mawhinney, Patrick Spaziante, Ken Penders, Harvey Mercadoocasio and Rich Koslowski. Super-terrific cover by Patrick "Spaz" Spaziante!
ISBN #: 978-1-879794-36-5
Shipping Date: November 12th, 2008
On Sale at Comic Specialty Shops: November 19th, 2008
On Sale on Newsstands: December 2nd, 2008
128-page, full color graphic novel
$11.95 US.