Your Artwork in a Sonic Game?
by Andrew Paulson
August 29, 2008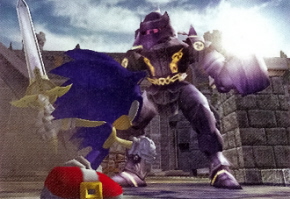 Sega America is holding a Sonic and the Black Knight fanart contest…
Sega America is currently holding contest for the top 20 fanart submissions, the winners will have their artwork added into the upcoming Sonic and the Black Knight game. Sega America did not reveal where the fan artwork would be featured (game manual/cover/in-game), but the winners will receive a free copy of the game. Sega is looking for artwork of Sonic, Knuckles, Tails, Amy, Shadow, Blaze or other characters from your favorite  scene of your favorite Sonic game.
The contest will be held worldwide, while US and Canada residents will be able to submit their work on the North American page, Europe fans will have to wait until the European site updates.  Head over to the Sega America Blog for more information on submitting your art!