Sonic Chronicles On the Spot At GameSpot
by Andrew Paulson
August 31, 2008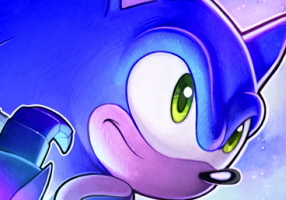 Ken Balough talks about puzzle elements, gameplay details, and makes a big announcement…
GameSpot's latest On the Spot episode will be of interest to Sonic fans as it features a interview around the 39-minute mark featuring Ken Balough, who discusses many different gameplay features of Sonic Chronicles: The Dark Brotherhood. The episode features a lot of gameplay footage from the game, Ken also gives detail on different aspects of the gameplay.
The footage starts out in Central City where Ken discusses stylus movement, and collecting rings as currency to buy items in shops. Conversation options are also discussed, picking exactly what you want to say. Ken mentions the Sonic icon, which is the best conversation choice to pick if you want a normal Sonic sorta response. It's also once again mentioned how dialogue options will not change the overall storyline of the game, but will change what side-quests you'll be able to choose and how the characters act toward Sonic.
Puzzle elements are talked about in this episode as well, showing off how each character has different abilities to help solve a specific puzzle. A crane puzzle is shown in the gameplay footage, with Tails using his mechanical abilites to help out.
Toward the end of the episode, Ken Balough surprises us with a big announcement regarding the release of Sonic Chronicles: The Dark Brotherhood. If you happen to be in New York City on Sunday, September 28th, make sure you stop by the Nintendo World Store. The game will have a early-release in that store only and the first couple of fans will be able to receive a autographed-copy of the game, though it's not mentioned who exactly autographed it (probably BioWare's janitor). Don't forget to bring your Nintendo DS as they'll be giving away exclusive Chao's for in-game use!