First @ TSSZ: New Sonic Chronicles Art!
by Paul Street
September 5, 2008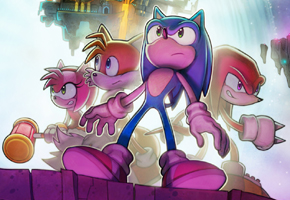 11 pieces of character art plus 4 fantastic scenes

The release of Sonic Chronicles is drawing ever closer and the wonderful chaps at Sega have today released some huge pieces of artwork from the game as well as some clear character art. The four large pieces are quite breathtaking and are of a high quality, like most of the art for the game. Indeed the art in the levels themselves look great. Take a look over all the art though because all of it is great. Enjoy!