Chronicles Insider Goes Behind the Scenes
by Tristan Oliver
September 6, 2008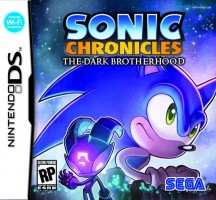 Management Wants Game to Withstand 10 Year Test of Time
It looks like Sega and Bioware have gone all out this week with an onslaught of Sonic Chronicles news.
In addition to all the artwork and videos that have crept up the past few days, the Sonic Chronicles Insider YouTube channel has been updated with a three minute behind the scenes look at the game.
The video includes commentary from Bioware CEO Ray Muzyka and President Greg Zeschuk.  Both top dogs talk about diving into the story and exploratory elements of Sonic, including going back and looking at the art direction of the Sonic comic series and old TV series (you'll see footage from Adventures of Sonic the Hedgehog in there, interestingly, as opposed to the SatAM ABC series.)
Both also speak about the challenge of bringing the franchise, most known for action and speed, into the RPG world, better known for slower elements.
Finally, you hear word that the game is almost finished, though Muzyka notes it needs to get to the "Bioware level of quality."  We've gotten a couple reports in which claim the game is finished and ready to ship.  In addition, Zeschuk wants this game to be looked back upon in ten years as on the best titles on the Nintendo DS.
See the video below now.  Keep coming back for the latest Sonic Chronicles information.