Sonic The Hedgehog #195 Preview
by Andrew Paulson
September 9, 2008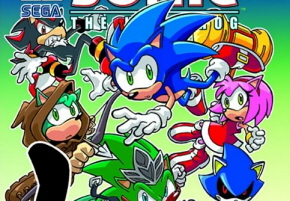 Archie Comics preview to the upcoming December issue…
Archie Comics presents us with a excellent Christmas present for those who love hedgehogs, the 195th issue in the Sonic The Hedgehog comic series. Archie Comics has released their preview of Sonic The Hedgehog #195, revealing a very hedgehog-heavy December issue and cover art:
SONIC THE HEDGEHOG #195
"Hedgehog Havoc, Part One": It's the story fans have wished for for years: all your favorite hedgehogs together in one pulse-pounding epic that spans New Mobotropolis, Moebius, New Megaopolis and more! You'll thrill to the excitement as Shadow, Amy Rose, Rob O' the Hedge, King Scourge, Metal Sonic, and of course, Sonic the Hedgehog collide in this explosive tale that finds Scourge accelerating his assault against the Freedom Fighters and his hated enemy, Sonic. You simply cannot afford to miss this-after all, the outcome could result in long-lasting ramifications that could change everything forever!
SCRIPT: Ian Flynn.
ART: Tracy Yardley! (pencils) and Jim Amash (inks).
Hedgehogs-a-plenty cover by Tracy Yardley! & Jason Jensen.
Shipping Date: December 3rd, 2008
On Sale at Comic Specialty Shops: December 10th, 2008
On Sale on Newsstands: December 20th, 2008
32-page, full color comic
$2.25 US.