Archie Comics Sonic #193 First Look
by Andrew Paulson
September 24, 2008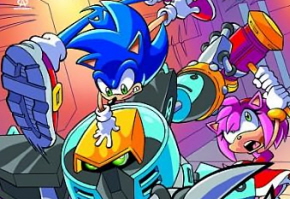 Next issue to have a Sonic Unleashed feature, scans and preview inside…
Archie Comics has released their first look at Sonic The Hedgehog #193, including scans shown below and a preview of the upcoming October issue. The cover of the issue promises to reveal more on the mystery of Sonic's Werehog transformation from the upcoming Sonic Unleashed video game, though nothing is said in the preview or shown in any of the scans. We do get to see what Dr. Eggman would look like if he dropped a few hundred (or more) pounds, so at least that's something:
SONIC THE HEDGEHOG #193
"Otherside Part One": Good comes face-to-face with evil… and it's just like looking in a mirror as Sonic and the Freedom Fighters square off against their evil doppelgangers from another world! With King Scourge (the evil anti-Sonic from another dimension) and the Suppression Squad controlling Freedom HQ, Sonic and Amy are sent across time and space to Moebius… the Anti-Mobius, that is! They run into some familiar faces in this topsy-turvy world, but who is friend and who is foe? And back home, what sinister scheme is Miles hatching?
SCRIPT: Ian Flynn.
ART: Tracy Yardley! (pencils) and Jim Amash (inks).
Double-trouble cover by Tracy Yardley! & Jason Jensen.
Shipping Date: October 1st, 2008
On Sale at Comic Specialty Shops: October 8th, 2008
On Sale on Newsstands: October 21st, 2008
32-page, full color comic
$2.25 US.