In Depth: Sonic Chronicles Launch Day in New York
by Tristan Oliver
September 28, 2008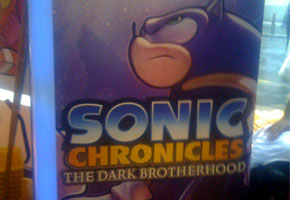 Tristan is the Only Reporter on Scene as Sonic Chronicles Launches in America
(Tristan's note: This is the first article in a four-part series involving Sega Day at Nintendo World New York.)
For years, I've told myself, nothing good ever happens when it rains.
On this day, the day Sonic Chronicles would launch officially in America in grand fashion at New York City's Nintendo World store, with the rest of the country to follow on Tuesday–the road from Philadelphia to New York was a rainy one.  At times, only pockets of drizzle littered the New Jersey Turnpike landscape.  But as my trek carried me further north, the drizzle became an occasional drenching.  My windshield was fogging up, and visibility was in steep decline.
This can't be good, I felt.
But when I exited the Lincoln Tunnel (and paid its egregious $8 toll,) the weather was no longer frightful.  Rain had ceased in lower Manhattan.  In its place…a sea of traffic, on tires and on foot.  The trip to the Lincoln Tunnel took all of an hour and 40 minutes.  Maneuvering through the grid of gridlock would take another half an hour.
But ten minutes to noon, after finding a convenient parking spot in the heart of Rockefeller Center, I arrived.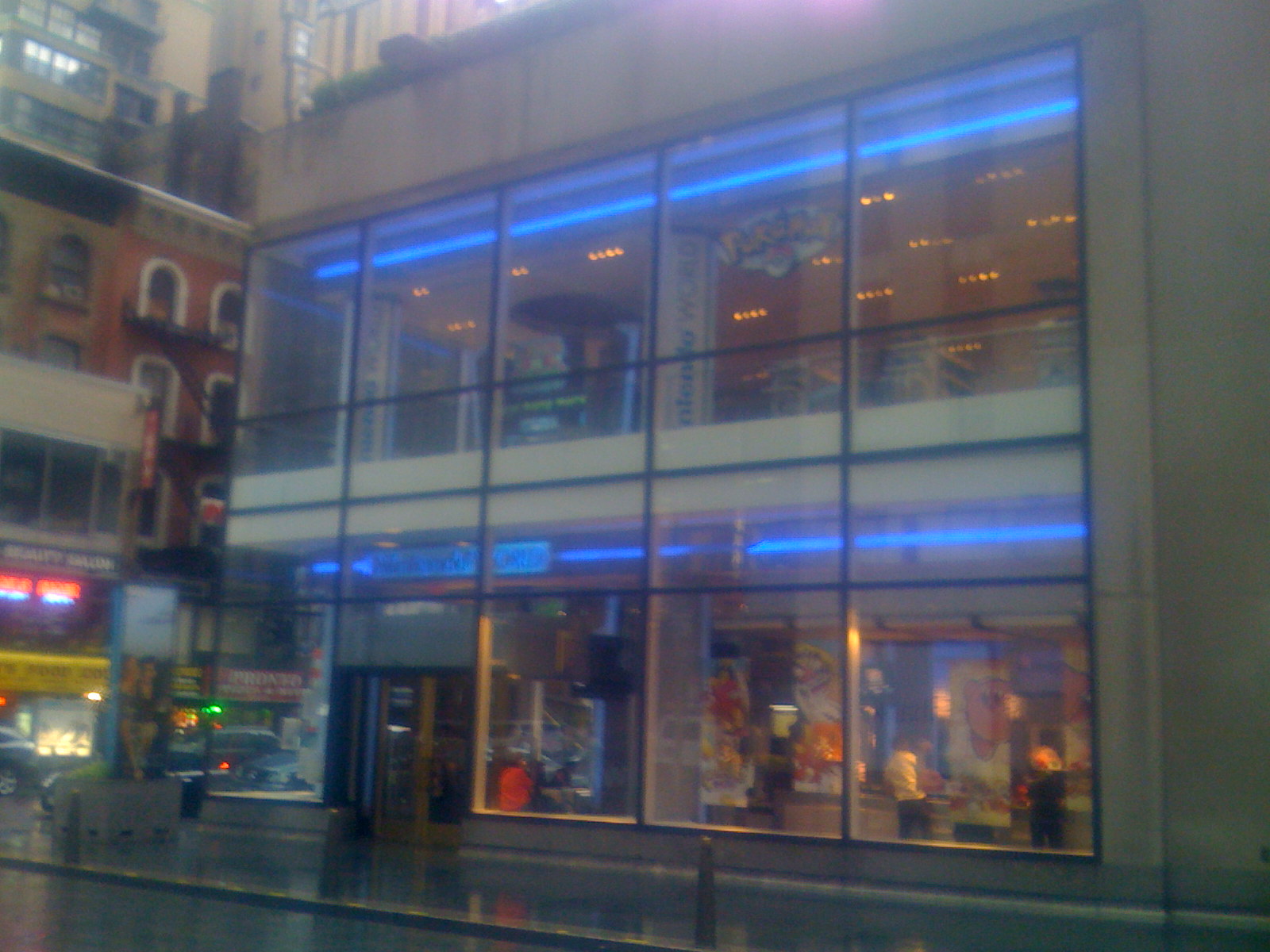 There is no other place like it in the United States for any other gaming company.  Nintendo World, tucked away between 5th and 6th Ave and housed right next to the NBC Today Show studios, is a two story complex built wholly to celebrate the fan.  Into Pokémon?  You'll find a full station to get your Pokédex up to speed, along with figurines of a ton of them.  Love Mario?  There are a ton of T-shirts with mushrooms, flowers, and the man himself front and center.  (And other things too–stay tuned.) There's tons of visual stimulation, with plenty of Wii and DS kiosks ready for you to tryout the latest and greatest the Big N has to offer.
But today was Sega's Day.
Two of Sega's latest–not necessarily the greatest accomplishments in the company's history will be given a day of celebration.  One the first floor, Sonic Chronicles would be sold for the first time in America.  On the second, Samba de Amigo would be the game of choice for an hourly tournament.  (We'll have something In Depth on that Monday.)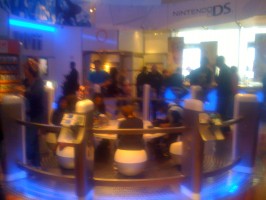 In the center of the first floor–a place we'll call the "pod"–there were many gamers, young and old, already getting their hands on Chronicles, as staff had stocked all DS kiosks with the title in preparation for this event.  Very surprising to me and perhaps of promise to those reading this were the folks waiting in line for their copy that were over the age of 18, and how even the age group was in the pod.  But given the tremendous amount of activity going on–between one crowd lining up for Chronicles, another trying to figure out for themselves if it's worth the purchase, and a third crowd–the staff-gearing up for what they suspect will be a long day, nobody was bored.  Around all of us, monitors were looping between the Samba trailer and the Chronicles trailer.  All the televisions, projection screens, and other visuals screamed Sega.  For some of the gaming veterans, this was supposed to be a day that was never supposed to happen.  Sega and Nintendo, together in celebratory harmony under one roof, with gamers all around more than willing to unite under a once bitter rivalry in the 90s.  Who would have ever thought this could happen?
It was a couple minutes after noon when announcements called for a final lineup for "Sonic Dark Chronicles"–their words, not mine.  The line for pickup was ultimately in the dozens.  I had showed up right as the number hit two dozen, and in the minutes counting down to launch, the line only grew more.  While it would have been amazing–almost bewildering, in a way–to see the line stretch outside the door, a lack of did not stop the excitement.  This has been the longest line I have seen waiting for a Sonic title in some time.  Sonic Adventure's concurrent launch with the Dreamcast in 1999 may have been the only other time, and that may have simply been because of the console.  A place normally reserved for Pokémon aficionados was instead filled with area Sonic fans, eager to get their hands on the first of what could be a one-two punch series in bringing Sonic back to true mascot form, or deeper into despair.
When the cashier's desk was ready, it began.
Nintendo World had two boxes of the game on hand for sale, at least.  The copy I purchased was the last in the first box.  So, how do I know there were two?  There were people behind me worried the game had indeed sold out.  Cashiers had warned of a sellout…or, rather, quipped, as they had quickly pulled out another box of the game.  To our knowledge, the game was sold to everyone who wanted a copy.
But Nintendo had promised some extra goodies to those first few who braved the dreary Sunday morning to come out.  They weren't being given out by the cashier though.  For that swag, you had to go over to the place we'll call the "bar."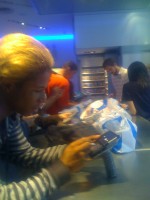 The bar, like the pod, is filled with Nintendo DS kiosks.  Today, the bar had plenty of people ready to score their swag, including an exclusive Chao to equip their party members with.  Sega had a representative in tow to let people know how to get their hands on that special item.  Because I was foolish and didn't bring my DS in tow, I can't tell you what that Chao was (if you were there also, please dish the goods.) But it looked to have been a real doozy.  As one group left their personal playtest with their own copy of Chronicles (and, in almost all cases, their own DSes in tow,) another group stepped right up to the plate.
But it's not like Sega didn't have other goodies.  The company gave away various custom DS stylus pens–all containing the core Sonic cast.  I got one with Sonic himself in a nice shade of blue.  That one's my souvenir from the day…as is Wii Fit, which they have in plentiful supply every morning.  I guess the early bird does get the worm.  Those who requested it also got a special Chronicles cover…well, it's not that special, other than it's signed by various members of Bioware staff.  That…well, stay tuned.  =)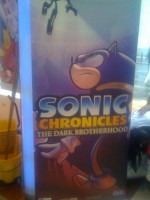 As I walked around the first floor, waiting for the first Samba de Amigo tournament to go full-throttle, something felt…different.  With gamers of all ages getting to know Sonic all over again in his new RPG form (as I did…more on that in part two), there dawned a sensation that the community and the faithful have not felt in some time.  It was…a good feeling.  It was a feeling of promise and optimism; a feeling that maybe, possibly, someone finally got Sonic right.  While I'm sure many reading this will have wanted it to be Sega themselves, no one can deny that a positive step forward with the franchise, no matter who takes that step, is progress; a step in the right direction for all of us.  The game's reviews leading up to this day have been better.  Sentiment in the fan community has been equally optimistic–cautiously, perhaps, but understandably so.  While many would argue this is not a launch on nearly as large a scale as, say, Super Smash Bros. Brawl or Grand Theft Auto IV–any sign we get of a new Sonic eliciting interest and enjoyment should be taken as a promising step.
Of course, driving back to Philadelphia from New York City, I was met with an hour or so of downpours.  Hm.
This was not the high point of the day at Nintendo World.  After I write my Sonic Chronicles hands-on impressions in a few hours, I'll tell you what happened at the Samba de Amigo tournament that will probably have you thinking great things about both Sega and Nintendo for a long time.
That will all be Monday, as the In Depth series chronicling the Chronicles launch continues with parts two and three.