Famitsu Publishes New Black Knight Screenshots
by Tristan Oliver
October 1, 2008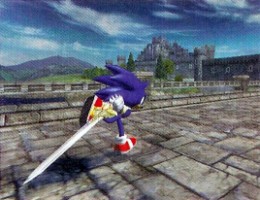 Includes Direct Combat Shots
This morning we have via Gamekyo some new screenshots of Sonic and the Black Knight, courtesy of the latest Famitsu magazine in Japan.
With the article scan comes a lot of Japanese text, and with that potentially some new information we have yet to translate.  Still, you'll get a glance of some direct combat shots, including Sonic flipping in midair for an attack.  You'll also note that the grinding's back.  Apparently, you can now grind on rope…sparks and all.
Take a look at the scan below, and keep checking back for more on Sonic and the Black Knight.