Sonic Nexus Time Attack Winner Announced
by Tristan Oliver
October 6, 2008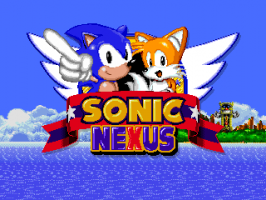 Updates on Future Builds Also Discussed
September's time attack contest for Sonic Nexus is over.  After a tough competition,  the winner was announced yesterday.
With Act 1 and Act 2 times in the Sunset Shore Zone of :45.43 and :58.55 seconds respectively, DarkZell101 has won a $15 gift card.
Embedded within the update was news from Slingerland, director of Sonic Nexus, that an anticipated update slated to be released after the contest will in fact not be coming for some time.  This was expected; as it had been hinted at for a couple weeks now on the Nexus blog.  Says Slingerland:
As for future releases, we are currently being punched in the face by college.  We will be spilling more information about the updates Sunset Shore when more develops.
We'll keep tabs on what happens with Sonic Nexus.