Inside the Sonic Unleashed Manga
by Tristan Oliver
October 7, 2008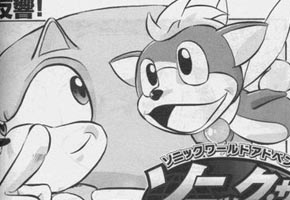 Scans Posted, Loose Translation Available
We have another news tip in from reader sonicsmashkirby letting us know that the Sonic Unleashed Manga has been scanned onto the Internet.  There are sixteen pages in total and it's all in black and white.  There's a lot of exchange going on between Sonic and Chip amid those pages.
Because of the delicate nature as to sharing such scans, we would prefer to send you over to the source our tipster found them, over at GameFAQs, as opposed to hosting them here.  There, you'll also see some translation from Japanese to English, though there is some dispute as to its accuracy.
As always, if you have a news tip, let us know by clicking the "News Tips" tab at the top of the page.