Regular SFGHQ Updates Resume
by Tristan Oliver
October 14, 2008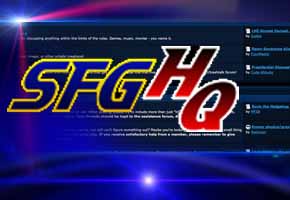 End to Content Drought Promised

After a long drought of updates for prospective fan game developers to ingest, administrators of the Sonic Fan Games HQ uploaded dozens of new materials yesterday.
From sprites and backgrounds to tutorials, yesterday's upload is promised to be the first in a steady stream of continuous updates for the veteran Sonic fan site and community hub.  Before yesterday's update, the last appreciable update came more than six months ago.  Before that, one happened in November of last year.
Those days are no more, according to Rael0505, one of the many SFGHQ administrators.  His penning of an update alone represents a sort of changing of the guard, as Smidge204, who took over as principal administrator once original founder Rlan left, had been the only one capable of front page updates up until this point.
Rael notes in his update that the effort was one he volunteered to do:
You guys have probably been wondering why it's been so long since we've had an update with content from the Submission zone uploaded. Up until SAGE 08's end, Smidge was the only one with the ability to make site updates, but he's been too busy with "real life" to do everything himself. A little over a month ago I volunteered to help out. He coded a new file uploader for me, and put me in charge of making sure it works as I upload everything people submitted in the past year.

The most important thing about this update is that now, having most of the big task out of the way, I will be able to make updates more frequently. There won't be huge droughts between updates anymore – with this new uploader Smidge coded, I'll be able to make a quick update every time someone contributes something. The main site will be much more active from now on!
A sound and engine update to the site is promised shortly.