Chronicles Contest now Open to Fan Art Submissions
by Tristan Oliver
October 15, 2008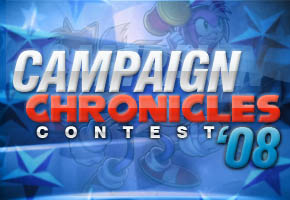 Deadline also Extended to October 25th
It's a shame, really.  We want to give away a nice, shiny new copy of Sonic Chronicles with the cover signed by the BioWare development team.  It ought to be quite rare and worth something someday.
Problem is, we've only had one entry to our Campaign Chronicles Contest so far.  It's a pity.
So, we're expanding eligible entries.  You can now submit fan art–stills, to us, in addition to any YouTube or video entry you may still be working on.  So, if you're a fan artist, know how to draw, or even know how to work it up in Photoshop, you have a chance.
Rules stay the same.  Pick a character in the Sonic Chronicles universe.  "Nominate" them to one of the three classes in the game–Power, Shifter, or Support.  Our staff will pick the best entry, and that one winner will be shipped the autographed copy of Sonic Chronicles.  Piece of cake.
So, fan artists, make a campaign poster.  Any readable size you do.  Just make sure it "sells" your candidate.
We're getting ready to show off the one entry we have thus far on our contest page, and we'd love to have your work shown too.  In an effort to help, we've extended the deadline for entries until midnight ET on Saturday, October 25th.  So, you have ten days to get those creative juices flowing.
Get crackin'.  Oh, and check the contest page for official contest rules.