Fan Community Scoffs at Upscaled "Ultimate Collection"
by Tristan Oliver
November 7, 2008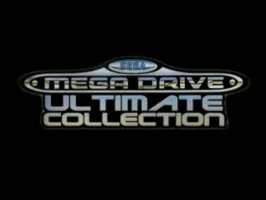 Fans Question Filter vs. True HD
It did not take long for the Sega community at large, including Sonic fans scorned from a pattern of company missteps, to quickly point out a glaring concern with the upcoming giant compilation of Sega Genesis titles for the XBOX360 and PS3.
Aside from general groans about the collection, called Sonic's Ultimate Genesis Collection in North America and Sega Mega Drive Ultimate Collection in Europe, being yet another re-release of titles, many were quick to point out an apparent filter that Sega and Backbone Entertainment are using for the upscaling of games to 720p HD, as opposed to redrawing the graphics for the game.
On NeoGAF forumers are pretty split as to whether the compilation is worth a purchase.  Forum member Nuclear Muffin doesn't believe it is, and directly puts the blame on the filtering and emulation:
Holy crap, that is the absolute worst Mega Drive emulation I have ever seen! (Somehow they made it look even worse than the XBLA versions!) You'll probably be able to turn off the filter like the XBLA games but to be honest, they still looked blurry and nasty even without the filter and had crap sound emulation as well as numerous glitches.
On the Sonic Retro forums, there was at least one comparison to the quality of Sonic 2's upscaling to the Sonic 2 HD fan community project.  synchronizer writes:
The only possible Sonic-related reason I would buy this would be if it included Knuckles Chaotix. I already own Sonic 1, 2, 3 and Knuckles, and the Japanese version of Sonic CD on the MEGA CD. Chaotix is the only Sonic-related game not to have been officially re-released (besides Gametap.). Macs don't have 32X emulators, so I'm waiting SEGA. Those filters do not make me happy either. SEGA should really learn something from all the people here working on Sonic 2 HD.
Even the responses to our original story got some attention.  Here's one from Phos:
Hopefully you can turn off the filter, if it's anything like hq4x, it's going to make everything look like it's made out of toothpaste.
There was some praise for the release, however.  Many welcomed the inclusion of the Streets of Rage franchise, as well as Shining Force 1 and 2.
What do you think?  Will the quality of the upscale deter you from purchasing or will the vast amount of titles available in the library reel you in?  Let us know in the comments below.