Sonic Unleashed Xbox 360/PS3 Mazuri Walkthrough Video
by Andrew Paulson
November 11, 2008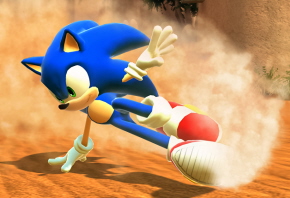 Sega takes us through the entire Mazuri Daytime stage…
Once again we have received more new gameplay footage of Sonic Unleashed, the latest is a walkthrough of the entire Xbox 360/PS3 Mazuri (African setting) daytime stage. The stage shows off the many different new moves Sonic will be able to pull off during his speed runs, including the drift move, which helps Sonic maintain his speed around tight corners.
The new footage once again show off the excellent transition from 3D to 2D gameplay. The 2D areas of the stage include a lot of rail grinding, bumper hitting, and homing attacks. This is followed with Sonic continuing to get injured by the same flame spewing enemy, use better timing next time, Sonic!
This new gameplay video also reveals "foot" symbols that are shown during 3D areas when Sonic is drifting around tight corners. These symbols appear at the top of the screen to warn you of slowing areas so you'll avoid those areas to your speed up. There is also once again word on the sun and moon symbols that you can collect during the game to unlock future stages.
During the game you'll be able to collect small video cassette tapes, which will be used to unlock cutscenes. The stage ended with the usual rating scene, showing off just how well Sonic did during the stage. Thanks to the many people who gave us tips on the walkthrough, check out the full video below or view a HD version of it from Gametrailers.com.