Review Discussion Officially Returns on Sonic Stadium
by Tristan Oliver
December 19, 2008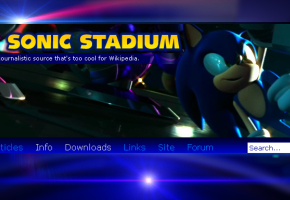 There Are Some Strings Attached
Frustrated that Sonic Stadium members pressed forward with discussion concerning recent reviews for Sonic Unleashed–including posts by Stadium staffers–despite a plea to stop a week and a half ago, administrators at the SSMB have opted to re-open a review discussion.
There is still a catch–"bickering" is banned.
Still, SSMB staffer remz has put forth a new official reviews topic.  Here's his warning to forumers if it gets out of hand:
People, do we really, really have to delve into the same tired old debates every time someone mentions "review" and "sonic unleashed" in the same topic? It's incredible, although apparently this community has come to the conclusion that the game is good but flawed whenever someone in the media DARES point this out you all revert to a caveman like state- behaving like bickering idiots. Or vice versa, it's just chaotic.

Had enough I have. Enough.

From now on. ALL REVIEWS ARE TO BE POSTED IN THE REVIEW TOPIC, LIKE THEY SHOULD'VE BEEN FROM THE START. urk.

People bickering in THERE will get suspensions. For real this time.

People making review topics separate from the designated review topic will also get suspensions.

I don't care how discussion worthy you think new review A or B is, it goes in the topic. having them separate like this just starts shit.

Probably a bit late for this now, but whatever. I don't care. Reviews go in there.
A similar topic spanning dozens of pages existed before that topic was closed and the ban on reviews was instituted.  All topics focusing on an individual review have now been closed.
There is still dissent in the ranks as to whether there should still be review discussion at all on the Sonic Stadium.  Slingerland, another Stadium staffer, tersely spoke out against the discussion on the new thread:
Hey, let's not talk about reviews anymore.

Just sayin'.
The change of heart has thus far sparked little response on the new reviews thread.