Final Black Knight Box Art
by Tristan Oliver
December 23, 2008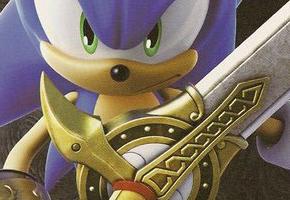 Game to be Rated E10+
With thanks to Hero of Legend for the news tip, TSSZ News has obtained a high resolution copy of what appears to be the final box art for the upcoming Sonic and the Black Knight.
One notable point is the ESRB rating: The box art shows an E10+, or Everyone 10 and Up designation.  Swordplay must not sit completely well with the ratings group.  You'll also note that the Sonic Storybook Series classification is shown, and that there will be Wi-Fi and other online capabilities.
Click on the image for full resolution.  Stay with TSSZ News as we bring you the latest information on Sonic and the Black Knight.