Eggman Exposé in ONM
by Tristan Oliver
January 19, 2009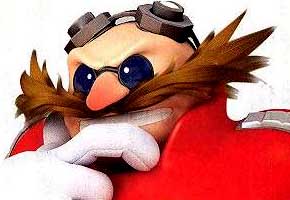 Mag Still Believes in Mobius
Apparently, the community isn't the only one diving deep into the depths of Eggman–so did a recent issue of the UK's Official Nintendo Magazine.  It's not the latest, so this may be old news to some UK subscribers, but for the rest of the world, it's worth a look.
The evil doctor was featured in their Profile section, and while much of it isn't new to Sonic faithful, it can be fun to reminisce on better days…as well as laugh at some of the magazine's errors.
Eggman still has a high profile in the gaming world–the ONM article claims a recent poll found him the fifteenth most diabolical video game villian of all time.  They didn't go into specifics of which poll, but said poll put him on a higher pedestal than Cyberdemon from the Doom franchise.  The article also notes Eggman was concocted originally to replace once flagship Sega mascot Alex Kidd, and that Yuji Naka considers Dr. Ivo Robotnik the official name of Eggman.  Last week, we found out that name was devised by Dean Sitton, then a game counselor at Sega of America.
Then, there are the potential continuity and historical inaccuracies found in the article.  While there is a Mobius mention in the story (which we have scanned below) with regard to Sonic Spinball–passable in that SatAM characters were used in that game–there's another one in regards to Eggmanland, the final stage of Sonic Unleashed.  There's also the little problem with the article citing Eggman as creating Shadow the Hedgehog, as opposed to simply releasing him to the world.  Sonic history dictates that it was Eggman's grandfather, Gerald Robotnik, who actually created Shadow.  Oops.
Geekdom aside, the art's still nice to look at.  Take a look below.  The scan has been floating around a few forums, including the Sonic Stadium message boards, where we obtained it.