Vote in the SFGHQ Minigame Contest
by Tristan Oliver
January 19, 2009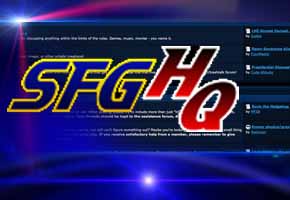 Fans Choose Today, But the Prize isn't as Nice
The voting closes today on a winner in the third Sonic Fan Games HQ Minigame Contest, and the prize going to that winner won't be the announced $20 in a choice of Wii Points, MS points or a PSN gift card.
Only five entries were made in the competition–and that only came to be from a change of heart by including once disqualified entries.  Contest organizer ila says the community output was not what he expected:
Okay I'm going to be frank here, the contest this year was less than adequate. Some of of the submitted entries seems to have missed the point of what a minigame is, in fact some being a regular game that lacks any unique mechanics.

Is this a cop out of the big prize? Probably yes. I'm sorry for those who actually put effort into your projects, but I did say at least 5 entries. Yeah whatever. I'll still give the winner something.

I guess I only have myself to blame here. I thought I picked a good time for it, gave you guys an adequate amount of time to pump something out, but I guess I need to stop going by my own standards of how fast a quick little minigame can be churned out. As much as I wanted them to help, the two extensions probably did more harm than good.

you know, the whole reason I started these minigame contests was to test your time management and dedication. Maybe some critical thinking too. Not stuff like "okay what unlockables can I put in?" Stuff like how you can make some unique mechanics into a fun quick little game.

Anyway I'm going to open up a vote now, I'll leave the DQ'd entries in there as an option to vote on if you desire, we'll see if my point is proven. There will still be a prize for the winner, just not as shiny.
You can go here to play the games, and if you're a SFGHQ forumer, you can also vote on your favorite.  As of press time, the current favorite appears to be Special Stage, the product of LarkSS.  Get your vote in quickly, however–voting closes today.