First @ TSSZ: First Ever Produced Sonic Comic on EBay
by Tristan Oliver
January 20, 2009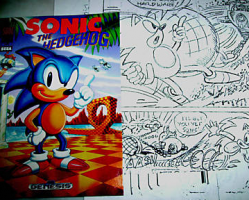 Dean Sitton Also Includes Broken Keyboard
Now that you've heard history in the words of Dean Sitton, the man behind the Ivo Robotnik name, he's now offering you a chance to own a little piece of it.
Spinning it as the Video Game Promotional Time Capsule 1–and with those words, perhaps indirectly suggesting more are on the way–the package not only includes the keyboard he used to reveal to the world that he is behind the Robotnik name, but it also includes the first ever Sonic the Hedgehog comic.  It's not by Archie–it was printed in Canada, and is only 8 pages long.
Not only do you receive that, you'll also get the final pencil art from the promotional comic, adding seven more pages.
Presently the going price is just $25, and if you have the money to "Buy it Now," that will only set you back $66.60.
The auction ends on Thursday.