Pole's Big Adventure Website Officially Debuts
by Tristan Oliver
January 23, 2009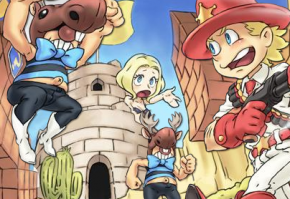 First Details on Characters, Actual Release Date
Most pertinent information had already been leaked, but there is now much more to learn with the big web debut of Takao Miyoshi's Pole's Big Adventure.
There are some major Mario vibes when you visit, even if you don't know a lick of Japanese.  It appears that Pole, the main character, is a sheriff.  He intends to save Sharon, the heroine.  But first, he'll have to get through the main antagonist, Poacher.  It appears one of Poacher's forms is a bull, and another is human–or it could be a guy in a bull costume, judging from some of the 8-bit art on the site.
Something else to note–this WiiWare game will support the Wiimote, the Classic Controller, and the Gamecube controller.  It will be out next Tuesday, February 3rd in Japan, and will cost just 500 Wii points.  There are also distinctly American overtones present, including the whole Cowboy / Sheriff motif, as well as the use of guns.  The purported use of crude humor may also play into that mentality.
Unfortunately there's a ton of Japanese on the site, so we'll update and keep you informed as the material is translated.