Inside Dubai's Sega Republic Theme Park
by Tristan Oliver
January 26, 2009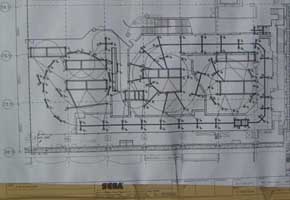 Dozens of Photos of Work in Progress
It's not very often that interesting Sega information is found on a message board dedicated to theme parks.
But when Sonic Retro webmaster Scarred Sun alerted her forumers to floor plans and more related to the upcoming attraction, a lot of Retroers took notice.
Sega Republic, as it will be known as, is being built at the Dubai mall in the United Arab Emirates.  When it's done, it will be part of largest mall in the world.  One theme park aficionado, known as dubaidave, popped some photos of the work in progress online recently.
According to dubaidave, the Republic will be two stories and be based off of Sega's Joypolis attractions in Tokyo.  There will be a coaster with a drop tower, among other attractions.
Dubaidave got a backstage tour of the attraction and the fruits of his labor are shown below.  Don't expect anything remotely close to this to end up in the US or UK, but…one can hope.  Keep a look out for the Eggman-themed rail.