Sonic 2 Screens from SUGC
by Tristan Oliver
February 4, 2009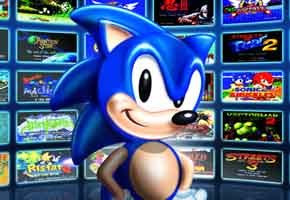 How do Sonic and Tails Look in Splotch-o-Vision?
With Sonic's Ultimate Genesis Collection out next Tuesday, Sega continues to send a steady stream of screenshots (say that three times fast) from the various titles that will be a part of the compilation.
Yesterday, it was Sonic 2's turn to shine…or splotch, depending on how you view it.  The good news is, you don't have to play the games with the HD filter turned on.
Interestingly, not much has been spoken about with the rumored extra features that are supposed to be a part of this disc.  Hopefully some details will leak about them prior to the compilation's release on both XBOX 360 and Playstation 3, and if they do, we'll pass them along.