Madworld Devs Sign Covers at Comic Con
by Tristan Oliver
February 8, 2009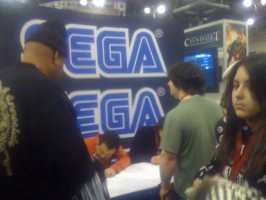 Plenty in Line for John Hancocks
Our TSSZ News camera very faintly caught the Saturday session of Platinum Games developers signing covers of the upcoming Madworld for the Nintendo Wii.
The team was there for all three days putting their autographs on the game's cover, which was handed out to those in attendance.  Madworld was one of Sega's most popular titles on the show floor.  As you can tell by the poor shot, there was quite a line waiting in anticipation.
More glimpses from the show floor are coming all day long.