NY Comic Con '09: Madworld Impressions
by Tristan Oliver
February 8, 2009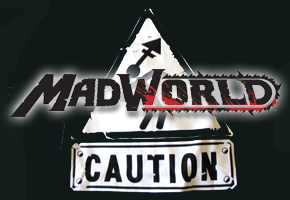 What's Black and White and Red All Over?  This Game
At Comic Con, I noticed a sort of arbitrary policy regarding children demoing the titles Sega had on display.  Most of the company's offering was mature, and while words suggested they wouldn't let kids play those titles–at least not without a parent's permission–trying to enforce it all the time was about as successful as something that isn't successful at all.
But, wouldn't you know it–I was right behind a kid attempting to play Platinum Games's Madworld when one of the Sega staff caught him red-handed, and the minor was sent on his way.  Madworld had been on the company's showstoppers at Comic Con, and there were a ton of lines to play the game until very late in the day.
It did not take long for me to realize why the kid couldn't play.
I admit I haven't expanded my horizons much on violent games, but this is easily one of the bloodiest titles I've seen or played in quite some time.  Crimson red is the only prevalent color in the level I played, and that's more due to the game's astounding art direction than anything.  Madworld will be known at least in the Wii circuit as a stunning and radically different approach to visual stimulation.  However, it will also be known for the gruesome way you kill enemies, be it with your fists or with a chainsaw, as well as other weapons acquired through the game.
It's quite appropriate for Comic Con that Madworld looks and feels like you're inside a comic book.  But of the one area I was able to play, I got the sense that pummeling opponents to death could get a bit old after a while.  That said, finishing off your foes has some variety, and each one is equally macabre and requires some use of waving the Wiimote and Nunchuk around.  The icing on the cake was the challenge I attempted at the end, the "Death Spike."  Essentially, I had two minutes to throw as many of my foes into a pit as possible.  A wall of spikes would then come crashing down, crushing and killing them instantly.  It, in theory, sounds like a nice stress buster after a long day at work.  But because I have so much trouble with the Wii's motion mechanics as it is, throwing them became more of a chore as opposed to just beating them down with buttons.  I'm sure that more experienced players will have no problem throwing down enemies to a mangled death.
The playtest wasn't much–it lasted all of five minutes–but it was enough to convince me that either Madworld will be remembed by many in the gaming community for all of the right reasons, or all of the wrong reasons.  More hardcore, mature gamers may finally have something to look forward to on the Nintendo Wii, with a stunning visual statement and manageable controls.  If that approach is successful, the game will be a success in Sega's eyes, as they are eyeing more of the "hardcore" crowd that happens to own a Wii.
However, I could also see watchdog groups getting in a fuss about why such violent content is on a presumed family console, where you literally kill people for points.  While it's nice to see both Sega and Nintendo take risks with Madworld, having a game for mature audiences doesn't and shouldn't always mean turning the bloodshed up to 11, and I question somewhat if that message has been lost on both companies.  Further, if "hack and slash" is all this game is about without some other gameplay component as a part of the experience, the reception may not escape being only slightly above average.  Plenty has been done on the next generation consoles to raise the bar, and though Madworld looks and acts mature enough to keep those who only have a Wii entertained, the stimulation may only last a short while.  It's not that the combat is bad, it's just that it appears a bit repetitive.
Hopefully, Sega and Platinum Games can get some tweaks in to improve the experience before the game is out later this year.
There's plenty more from Comic Con…but my feet are in incredible pain from walking around so much.  So, we'll have much more content from the convention later in the day on Sunday and into Monday morning.