Sega Sammy Expects $235M+ Loss
by Tristan Oliver
February 10, 2009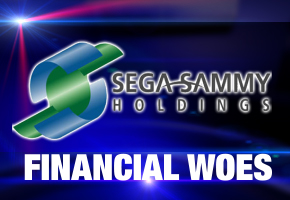 Financial Crisis Hits Hard; Major Layoffs & Closures Expected
Sega Sammy Holdings has released its latest financial forecast for the year, and in a time where it seems only gaming companies can weather the bad economy without major problems, the figures are troubling.
The company anticipates a loss of more than $235 million for the fiscal year come March.  Sega Sammy blames the loss on the economic downturn, which has impacted all facets of its business–from home video games to arcade cabinets and those pachinko machines the Sammy division is famous for.
The company has announced plans to cut costs across the board, and that won't just mean cutting jobs, but possibly cutting titles in development.
Sega Sammy will close 110 of its arcades in Japan.  Some may be sold to other companies.  From there, workforce downsizing will begin.  The company will cut 18% of its workforce–first through voluntary attrition, and then through layoffs.  The first volunteers will be shown the door next month.  You may remember that Sega of America cut 30 jobs recently; it now appears many more will be shown the door worldwide.
From there, development costs will be cut by 20%.  In short, that means less games coming out of the company.  This is in line with comments made recently by Sega Europe COO Mike Hayes, who suggested the company will only focus on a short list of IPs for the next couple of years.  But the cut in development could also mean a cut in production budgets for the games that do survive the ax.
Despite the bad news (and the fact that the company has been hemorraging money off and on for some time now), stock in Sega Sammy Holdings was up 3.7% for the day on the Nikkei stocks, at ¥1118.  Interesting enough, the stock has given investors a yearly return of 4.6%.
That news, however, won't be of comfort to the hundreds of loyal Sega Sammy employees who now potentially face a pink slip.  TSSZ News will keep you informed on the matter and let you know if any major developer is on the cut list.