New Screenshots: Sonic vs. Knuckles in SBK
by Tristan Oliver
February 24, 2009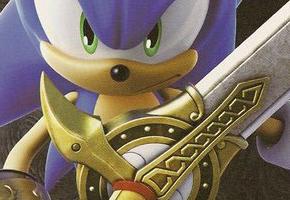 Peek at Sir Gawain Duel Inside
French site Eversonic has obtained some new images from Sonic and the Black Knight, as we are now only a week away from the game's release in North America.
The shots show off more swordplay, this time between Sonic and Knuckles, posing as Sir Gawain for this story.  It appears Sonic will have double the trouble to contend with in this boss battle.  But remember–beat him, and you may be able to play as him.
We're in the countdown now to launch day, both here in the US and abroad.  TSSZ News will give you the latest details on the game leading up to launch day, and we'll give you every score and point you to every review we find of the game.